News
10/5/16:

Early Tuesday, Hurricane Matthew hit the southern coast of Haiti with deadly force and caused ripple effects through the poverty-stricken country. Government officials are evaluating the damage on a grand scale and United Nations officials have described the storm as the worst humanitarian crisis to hit Haiti since the 2010 earthquake.
We have been in communication with our Haitian colleagues, as well as the ServeHAITI volunteers that are currently in Grand-Bois. ServeHAITI staff and volunteers have begun to assess the impact of Matthew on the community, and what they have found is devastating. Many homes have seen extensive damage due to strong winds and crops have been decimated, impacting the livelihood in this mostly agrarian economy.
The impact of Hurricane Matthew will certainly be felt in the days and weeks to come. One of our biggest concerns is a likely surge in cholera in the wake of this storm. Though cholera has persisted in Haiti in the aftermath of the 2010 earthquake, ServeHAITI has kept the spread of the disease in check in Grand-Bois through patient care and health education programs broadcast on our radio station. Hurricane Matthew has jeopardized the supply of clean drinking water and our radio station is in need of repair. Dr. Leopold Bourgouin, ServeHAITI's Medical Director, fears a surge in cholera as a result of these conditions.
We are mobilizing in order to prepare for this threat, but we need your help.
Thank you for your continued support of those in Grand-Bois, at their most vulnerable moments. We appreciate your help as we provide immediate and ongoing assistance in the wake of this disaster. Please consider giving an emergency gift today by clicking on the following link: https://donatenow.networkforgood.org/hurricanerelief
With Gratitude,
The ServeHAITI Team
9/9/16:

1/21/16:
It is with deep regret and profound sadness that we write this update to our ServeHAITI family on a recent situation that has transpired:
A delegation of volunteers was returning from the St. Vincent de Paul Health Center in Grand-Bois to Port-au-Prince on Sunday, January 10, to fly back to the states the next day, when a group of armed men on motorcycles attempted to stop the ServeHAITI vehicles. A confrontation ensued and one of our Haitian drivers, Philibert "Boulé" Anice, was assaulted. With intervention from one of ServeHAITI's leaders, the men thankfully stopped and drove away. The ServeHAITI vehicles & volunteers were able to get to the local police station in Thomazeau to report the incident, and the U.S. Embassy and Haiti National Police were immediately notified of the situation. Boulé was seen at the hospital the following morning and although bruised and battered, was not seriously injured. Arrest warrants for the perpetrators are in place, but they have not yet been found by the authorities. The volunteers, though shaken, were able to stay calm and provide comfort to Boulé on the remainder of the trip to Port-au-Prince. We are grateful for their grace & strength in such a difficult situation.
After careful and prayerful consideration, and keeping the safety of the volunteers and our staff our highest priority, the ServeHAITI Board of Directors has regretfully made the decision to suspend all upcoming travel to Grand-Bois until we can reasonably assure the safety of our drivers and volunteers. While this is a great loss to the community we serve, there is not enough information at this time to fully understand the implications of such a situation. The Haitian Consulate in Atlanta has been notified and we have been communicating with them and other authorities to better understand the risk of travel in the area.
While we cannot say with absolute certainty what will happen in the future, we are confident and hopeful that with time, our questions will be answered and safety will be secured in the region so that we may resume travel and our work in solidarity with the people of Grand-Bois, Haiti.
For those that have been in contact with us regarding upcoming trips, we appreciate your patience while we have thoroughly investigated the situation to assess the risk. Also, thank you for your kind words, prayers, and encouragement during this difficult time.
Please continue to keep the people of Grand-Bois in your prayers. They greatly rely on our delegations to deliver life-saving medication and supplies for the clinic. Additionally, they have lost the opportunity to be seen by an optometrist and a dentist during upcoming trips in January and February.
We'll continue to work hard from the states to advance our mission until we can be with them in person, hand in hand, once again.
Kenbe fem (stay strong).
In Loving Memory of a Faithful Servant
Richard "Dick" Froeschle, 90, passed away peacefully at his home in DeWitt, surrounded by his family, on Monday, December 15th after a courageous battle with old age. Services will be held at 11:30 a.m. at Our Lady of the River Catholic Church in LeClaire with visitation to be held from 9:00 am until the funeral mass.
Dick was born January 26, 1924 in Davenport, a son of Theodore and Grace Froeschle. He attended Davenport High School where he met Marian "Hank" Henry. He helped pass notes between her and her boyfriend. After High School he enlisted, serving in the U.S. Air Corps at Lincoln Air Base, the Army Specialized Training Program at the University of Nebraska and the Army Infantry in the European Theater during WWII. After his return he attended St. Ambrose University and happened to run into his old classmate, Marian. They were married within 15 months and they celebrated 50 years of marriage before she died in 1999.
Dick worked for Davenport Memorial Park as a salesman, Sales Manager and Assistant Manager, retiring in 1998 after 49 years. In recognition of his faithful service, the main entrance roadway of the cemetery was named Richard A. Froeschle Blvd.
He was a lifelong member of the BPOE 298 serving on innumerable committees including Chairman of the Handicapped Youth Activities for 44 years and a co-founder and Director of the Elks local and Iowa State Hoopshoot Free throw contest.
First and foremost an avid Hawkeye fan, he also was very active in the Assumption Boosters, the "I" Club, the North Scott Rotary and was a charter member of the PGO (Professional Goof Offs) Golf Club, proud to serve as President for 35 years.
He will be missed greatly by his 9 children and their spouses, Christine Maynard, Atlanta, Cathy and Joe Kellenberger, DeWitt, Gary and Mary Froeschle, DeWitt, Cindy and Dave Broders, Bellevue, Mark and Linda Froeschle, Davenport, Matt and Trish Froeschle, Davenport, Liz and Tom McDermott, LeClaire, Mike and Syntina Froeschle, Monmouth and Jim Froeschle and Gene Rinehart, Atlanta, 24 grandchildren and their spouses, 36 great grandchildren and their spouses and 7 great-great grandchildren, as well as special neighbor and friend, Yvonne Hart.
Along with Marian, Dick was preceded in death by his parents and brother, Robert and sister in law, Marjorie, brother in law and sister in law, Don and Clara Henry, as well as numerous golfing and bowling buddies, Steak Fry members and fellow Elks. They are all undoubtedly celebrating the newbie arrival.
In lieu of flowers, memorials may be made to ServeHAITI, 999 Peachtree St. NE, Atlanta, GA 30309,
www.serveHAITI.org,
a non-profit near and dear to Dick and the entire Froeschle family.
FOR IMMEDIATE RELEASE
Nov. 18, 2014
ServeHAITI Joins the National #GivingTuesday Movement
Atlanta, GA – ServeHAITI has joined #GivingTuesday, a first of its kind effort that will harness the collective power of a unique blend of partners—charities, families, businesses and individuals—to transform how people think about, talk about and participate in the giving season. Coinciding with the Thanksgiving Holiday and the kickoff of the holiday shopping season, #GivingTuesday will inspire people to take collaborative action to improve their local communities, give back in better, smarter ways to the charities and causes they support and help create a better world. Taking place December 2, 2014 – the Tuesday after Thanksgiving – #GivingTuesday will harness the power of social media to create a national moment around the holidays dedicated to giving, similar to how Black Friday and Cyber Monday have become days that are, today, synonymous with holiday shopping.
ServeHAITI is an all volunteer organization committed to working in solidarity with the people of Grand-Bois, Haiti to address issues in medical care, clean water, education, nutrition and economic development. Those who are interested in joining ServeHAITI's #GivingTuesday initiative can visit us at https://donatenow.networkforgood.org/ServeHAITI or on Facebook @ServeHAITI and Twitter @ServeHAITI_Atl.
ServeHAITI is excited to announce our
newest partnership with Direct Relief International.
Below is the article written by Direct Relief for their own website.
Written by Direct Relief on March 7, 2013 / SHARE THIS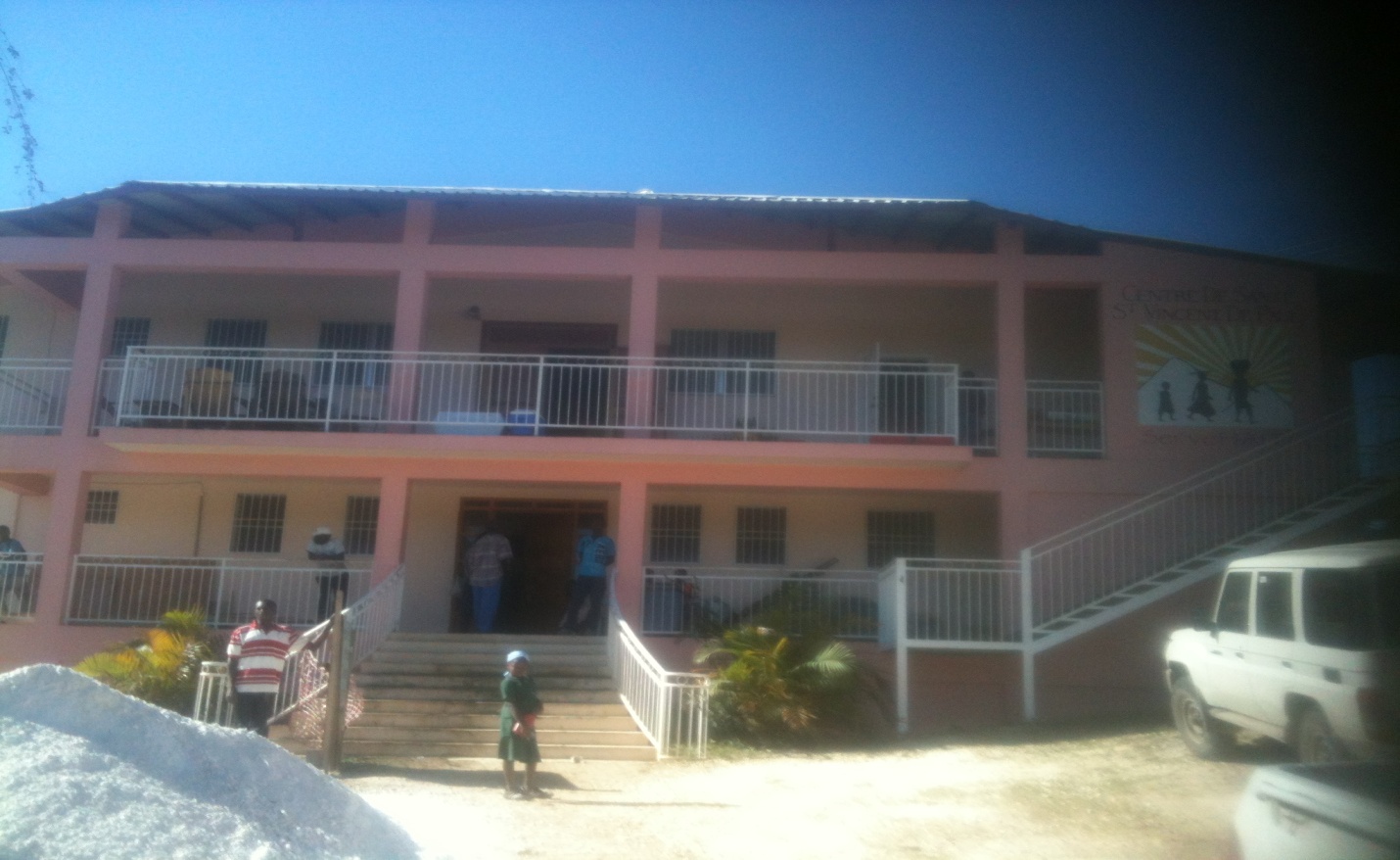 Direct Relief is happy to welcome its newest international partner, ServeHaiti. ServeHaiti is a group of medical and other professionals who volunteer and support the Clinique St. Vincent de Paul in Grand Bois, Haiti, a community of 65,000 residents located a few miles from the Dominican Republic border.
Clinique St. Vincent de Paul is the only place to get medical attention in the 200-square-mile area of Grand-Bois, according to ServeHaiti, so their services are much-needed for the local and surrounding community to be able to access health care.
The organization began working in Grand Bois in 2001. Since that time, projects have included building a medical clinic, improving the schools, and working toward clean water for every home in the community.
In addition to the volunteers who support the organization's work, ServeHaiti employs a local staff of 15, consisting of doctors, nurses, a pharmacist, five community health care workers and five other agents who oversee a potable water program. Each month the clinic receives about 1,000 patients who arrive by foot, donkey, handcart, motorbike, and truck.
The clinic offers acute care services for illnesses such as pneumonia, heart failure, diarrheal-related diseases and injuries as well as primary care services for patients with chronic diseases like hypertension, diabetes, and malnutrition. They also have a nutrition program, a mother-baby project and a cholera treatment center. With the help of qualified volunteers, they are occasionally able to offer dental care.
Besides supporting the clinic, ServeHaiti focuses on community education as well, hosting a community radio station that broadcasts educational programs five days a week, mostly at night. They also support sponsorship programs allowing children in the area to attend school.
According to ServeHaiti staff, a significant portion of their budget is spent on medications for their on-site pharmacy. With Direct Relief's support, ServeHaiti said they can now allocate these funds to other much-needed programs such as building houses for some of the villagers whose homes were destroyed by the last storm.
Direct Relief is delighted to begin working with ServeHaiti to help improve the health and lives of those living in the area.