News & Events
"And the Doctor Cried…"
Report of ServeHAITI
August 2013
By: Peter J. Anderson
Wisline Derosiers was brought into the St. Vincent de Paul Health Center in Grand Bois on August 21, the day before ServeHAITI volunteers were to return to the U.S. The infant was 16 months old and weighed 5.2 kilograms or approximately 11 pounds.  She was severely malnourished, but her immediate problem was pneumonia.  Her mother, not fully understanding the consequences of the child's malnourishment, had taken Wisline to a charlatan who had given her a series of liquid concoctions, as seen below, which she aspirated, resulting in pneumonia.
Dr. Michael Grady, ServeHAITI's Executive Director who led the delegation, Dr. Leopold, and Dr. Ulysse, our resident Haitian physicians, worked throughout the afternoon on the child, providing her oxygen and respiratory therapy using the oxygen concentrator and infant nebulizer equipment recently installed at the Health Center.  Wednesday afternoon was one of torrential rain and severe lightning.  When the child was first brought in, she had a pulse oxygen level in the 40s when it should normally be just shy of 100.  Dr. Michael personally "bagged" the child, increasing the oxygen flow into the tiny lungs.  In the midst of their work on Wisline, the doctors were called to another exam room where a young woman had been struck by lightning in the storm.  The lightning had burned away her undergarments, and she was in significant pain.  The doctors were able to medicate the pain and provided cold compresses.
Throughout the torrential storm, the doctors returned to their close observation of Wisline, and her vital signs continued to improve.  Later, Dr. Michael, shortly before turning in for the night, checked in on "his patient" and reported that she was doing well.  Early Thursday morning, I sat on the porch waiting for the sunrise over the mountain.  Dr. Michael, looking haggard, carrying a cup of coffee, mumbled that Wisline had passed, and then the Doctor cried.
For over a decade, ServeHAITI has supported the 200 square mile community of Grand Bois in a variety of ways, including healthcare, water purification, economic development and a recently focused effort at restoring the schools where the children are educated.  The principal source of financial support for ServeHAITI comes from its Annual Fundraiser, which this year will be October 5 at the Atlanta Contemporary Arts Center.  Parishioners of the Basilica are encouraged to attend to support their Haitian ministry.  Recognize that the $100 ticket price enables us to buy 4 Gift of Water filtration buckets.  It also covers the cost of treating 65 patients with malaria; buys enough Amoxicillin to treat 80 children with upper respiratory infections; and Mebendazole tablets to treat 1200 school-aged and infant children for intestinal worms.
During the August trip, ServeHAITI volunteers replaced the roof on the rectory for Father Reginald Joachim's church in Palme, which had been lost in a hurricane in 2012.
On September 15, following the 10 a.m. Mass, Peter and Hannah Anderson will present a visual update on "Working to Achieve Sustainability and Solidarity in Grand Bois, Haiti for Over a Decade."  We hope that you will plan on attending.
To purchase tickets to the benefit, please visit ServeHAITI's website at www.ServeHAITI.org or contact Peter.Anderson@sutherland.com.  Tickets will also be available at the presentation on the 15th.
ServeHAITI  is excited to announce  our
newest partnership with  Direct Relief International.
Below is the article written by  Direct Relief  for their own website.
Written by Direct Relief on March 7, 2013   /   SHARE THIS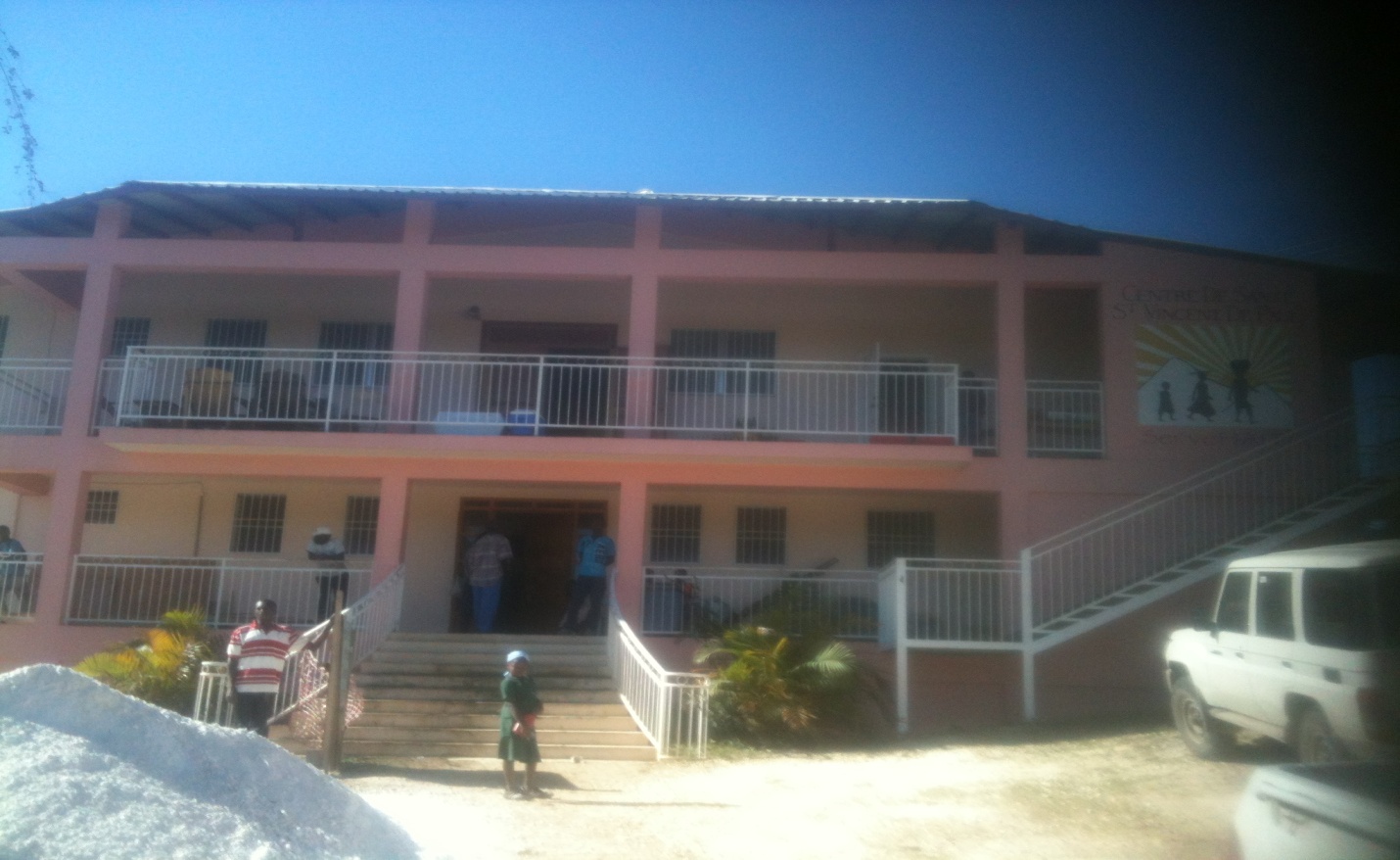 Direct Relief is happy to welcome its newest international partner, ServeHaiti. ServeHaiti is a group of medical and other professionals who volunteer and support the Clinique St. Vincent de Paul in Grand Bois, Haiti, a community of 65,000 residents located a few miles from the Dominican Republic border.
Clinique St. Vincent de Paul is the only place to get medical attention in the 200-square-mile area of Grand-Bois, according to ServeHaiti, so their services are much-needed for the local and surrounding community to be able to access health care.
The organization began working in Grand Bois in 2001.  Since that time, projects have included building a medical clinic, improving the schools, and working toward clean water for every home in the community.
In addition to the volunteers who support the organization's work, ServeHaiti employs a local staff of 15, consisting of doctors, nurses, a pharmacist, five community health care workers and five other agents who oversee a potable water program. Each month the clinic receives about 1,000 patients who arrive by foot, donkey, handcart, motorbike, and truck.
The clinic offers acute care services for illnesses such as pneumonia, heart failure, diarrheal-related diseases and injuries as well as primary care services for patients with chronic diseases like hypertension, diabetes, and malnutrition. They also have a nutrition program, a mother-baby project and a cholera treatment center. With the help of qualified volunteers, they are occasionally able to offer dental care.
Besides supporting the clinic, ServeHaiti focuses on community education as well, hosting a community radio station that broadcasts educational programs five days a week, mostly at night. They also support sponsorship programs allowing children in the area to attend school.
According to ServeHaiti staff, a significant portion of their budget is spent on medications for their on-site pharmacy. With Direct Relief's support, ServeHaiti said they can now allocate these funds to other much-needed programs such as building houses for some of the villagers whose homes were destroyed by the last storm.
Direct Relief is delighted to begin working with ServeHaiti to help improve the health and lives of those living in the area.